January 1 to December 31, 2021
In accordance with the Dental Care Plan Board of Management (NJC part) Terms of Reference, the undersigned submit this annual report regarding the performance and the management of the Dental Care Plan (NJC Part) during the period of January 1 to December 31, 2021.
Chairperson of the Board of Management
Martin Chartier
Employer Side Members
Philippe Blanchette, Financial Transactions and Reports Analysis Centre of Canada
Hilary Flett, Health Canada
Julie Laverty, Supreme Court of Canada
Jane Manuel, Treasury Board of Canada Secretariat
Bargaining Agent Side Members
Colby Briggs, Professional Institute of the Public Service of Canada
Paul Cameron, International Brotherhood of Electrical Workers
Joy Thomson, Canadian Merchant Service Guild
Mireille Vallière, Canadian Association of Professional Employees
General Statement
The Dental Care Plan Board of Management (NJC Part) (the Board) is pleased to present this report for the period of January 1 to December 31, 2021. The Public Service Dental Care Plan (PSDCP) completed 34 years of operation on March 1, 2021. The Plan is intended to cover reasonable and customary dental treatment necessary to prevent or correct dental disease or defect, provided the treatment is consistent with generally accepted dental practices. The Plan is private, and its cost is fully paid by the Treasury Board of Canada Secretariat (TBS), the Employer.
The Board is composed of management and union representatives. It is responsible for the overall administration of the Plan, balancing the overall needs of the members within the allocated funding, resolving members' complaints regarding eligibility or claims disputes, monitoring the claims settlement performance of the Administrator, and recommending changes to the Plan.
Due to the COVID-19 pandemic, the Board continued with their modified meeting format of virtual meetings. In total, the Board met 6 times during 2021, devoting its time to overseeing the administration and financial status of the Plan, resolving appeal cases and recommending improvements to the Plan.
Administration
The Board wishes to thank the Administrator, Canada Life, for their continued support and administration of the Plan. The Board noted that the Administrator maintained a claim turn-around time of 3.67 calendar days, 3.33 days less than the target turnaround time of 7 calendar days. The Board is pleased with claim turnaround time but remains concerned with the level of review, and auto-adjudication, on said claims.
As a part of the Board's duties, it is responsible for the overall administration of the Plan and monitoring claims settlement performance of the Administrator. As noted in its 2020 report, the Board continues to wait for an external claims audit of the Administrator to take place. The existing contract with the insurer presents certain administrative challenges to initiating this process. In response to concerns raised by the Board, via a memo addressed to the Senior Assistant Deputy Minister, Employee Relations and Total Compensation, TBS, TBS provided the Board with an update. It was explained that contractors were hired to conduct an audit in 2017 and 2018; however, the audit was cancelled. An audit for 2019 was planned but delayed due to COVID-19. Fortunately, TBS did indicate that they are supportive of an audit, and that an audit will be taking place in 2022.
The Board continued to request and receive information from Canada Life regarding its practices for preventing and following up on false claims. Specifically, as requested, it received presentations from the insurer providing details on its fraud prevention practices, as well as reports on the top 20 providers and child scaling. The information showed that Canada Life is adopting fraud prevention approaches in line with normal industry practices while preserving efficient, effective claims administration for the benefit of plan members. A "deep dive" claims review only resulted in minimal questions concerning the child scaling and the top 20 providers. That said, the Board has recommended further investigations to explore irregular billing trends and instances of seemingly medically unnecessary dental treatment.
Regarding the COVID-19 temporary administrative measures for the PSDCP, TBS informed the Board that the end-date of the temporary measures has been extended and as such, the measures will be in effect until March 31, 2023.
Activities
The Board dedicated time to resolving members' complaints regarding eligibility and claims disputes. The Board reviewed 35 appeals; 5 were upheld, 4 were upheld in part and 22 were denied. The Board also granted 4 requests for coverage of a dependant.
The Board continues to monitor the overall administration of the Plan and remained invested in the ongoing concerns initially raised in 2017 regarding the percentage and appropriateness of auto-adjudicated claims, the amount of auto-adjudicated scaling units claims for young children, and a claims audit. After discussions between the Board and TBS, it was agreed that the audit would address the Board's outstanding questions concerning past scaling reports for children.
During 2021, TBS introduced the Observer Program, which is an informal program whereby diverse senior-level public servants may be selected to participate on pension and benefits boards to develop their knowledge and experience to become a future appointed Employer representative. As a result, the Board had two observers attend meetings. The Board created separate guidelines for observers at Board meetings, which includes the opportunity to have Bargaining Agent side observers, and these guidelines are in the process of being incorporated in the Board's Terms of Reference.
This past year, the Board engaged in discussions regarding the desire to enter into Plan negotiations during 2022; however, the Board remains aware that a mandate from the President of the TB is required before negotiations may begin. The Board, as well as TBS, is looking forward to re-examining Plan changes, as part of future negotiations, to tackle medically unnecessary treatment performed by dental providers as a means of improving the cost effectiveness of current spending. Where such charges could be eliminated, savings could be redirected to new coverage that creates value for members. Several proposals in this area may be examined in 2022 and beyond.
The Board has been chaired by Dr. Peter Cooney for the past 10 years. As Dr. Cooney tendered his resignation in December 2020 to coincide with the end of the fiscal year in March 2021, Dr. Cooney continued to provide welcomed leadership, advice and guidance to the Board, pending the completion of TBS's search for a new chairperson.
Plan Expenditures
The total cost of the Plan (NJC Part) since 2012 is as follows:
2012 - $117.3 M
2013 - $114.5 M
2014 - $114.4 M
2015 - $116.2 M
2016 - $119.4 M
2017 - $121.4 M
2018 - $125.2 M
2019 - $137.0 M
2020 - $112.2 M
2021 - $153.8 M
In 2012, Plan costs rose by 3.2%. In 2013 and 2014, Plan costs decreased by 2.4% and 0.1% respectively mainly due to decrease in membership. This was partially offset by an increase in the provincial fee guides and utilization of services (Figure 1). Plan costs increased in 2015, 2016, 2017, 2018 & 2019 by 1.6%, 2.8%, 1.7%, 3.1% and 9.4% respectively. In 2020, costs decreased by 18.1%. This drastic reduction was due to the closure of dental offices in Q2 due to the COVID-19 pandemic. Administration expenses decreased proportionately in relation to the number of claims processed and taxes decreased in relation to the value of paid claims and administration expenses. In 2021, costs increased by 37.1% over 2020 or 12.3% over 2019.
The total cost of $153.8M for 2021 includes $144.2M or 93.7% for paid claims and $9.6M or 6.3% for expenses. The year-to-year changes are:
2012 - 3.5%
2013 - (2.4%)
2014 - (0.1%)
2015 - 1.6%
2016 - 2.8%
2017 - 1.7%
2018 - 3.1%
2019 - 9.4%
2020 - (18.1%)
2021 - 37.1%
Paid Claims and Employees Covered (NJC Part)
The number of covered employees at the end of 2021 was 149,891, of which a total of 124,936 employees (83.4%) submitted at least one claim, either for themselves or an eligible dependant. A total of 817,367 claims were resolved, representing an increase of 32.8% over 2020 but only 2.1% from 2019; the average cost per claim in 2021 increased by 3.4% to $176.37 from 2020 or by 10.2% from 2019. The average benefit per member in 2021 increased to $961.78 from $730.25 (in 2020) which represents an increase of 31.7% or from $929.52 (in 2019) which represents an increase of 3.5%.
Figure 1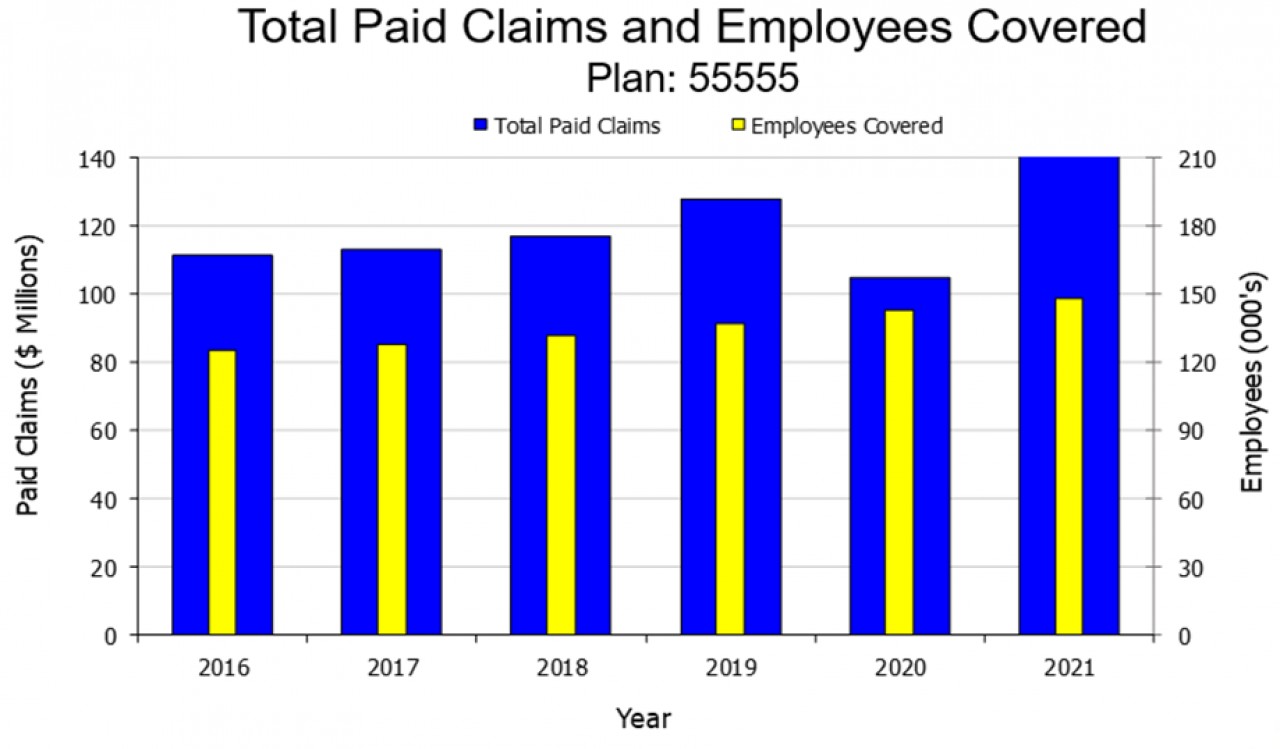 For 2021, the total amount charged by dental providers to Plan members was $278,448,624 compared to $144,162,655[1] in net benefits paid to employees, for a reimbursement ratio of 51.8% (see Table 1).
Breakdown of Paid Claims
Plan Number 55555 - NJC
5 year Claims Processed Analysis

Year

Routine
$

%

Major
$

%

Ortho Amount
$

%

Total Amount
$

2017

 92,526,067

81.6

10,281,966

9.1

10,545,054

9.3

113,353,087

2018

 95,601,166

81.8

10,060,075

8.6

11,284,292

9.6

116,945,533

2019

104,120,814

81.3

11,474,634

9.0

12,467,706

9.7

128,063,154

2020

 84,406,432

80.4

 9,522,652

9.1

11,047,849

10.5

104,976,933

2021

115,629,048

80.2

13,104,366

9.1

15,429,241

10.7

144,162,655
[1] Amount does not include the exchange portion of claims in US dollars.
Variations between years 2017 and 2021, concerning paid claims by type of treatment, are as follows:
Table 2
Treatment

2017
%

2018
%

2019
%

2020
%

2021
%

Major Restorative

 6.37

 5.98

 5.81

 5.81

 5.78

Minor Restorative

21.04

20.96

20.75

20.75

20.52

Oral Surgery

 4.77

 4.84

 5.23

 5.65

 5.91

Orthodontic

 9.30

 9.65

 9.74

10.52

10.70

Periodontic

24.87

24.96

25.00

24.11

24.97

Preventive

12.54

12.52

12.04

10.86

10.47

Adjunctive

 1.21

 1.23

 1.40

 1.49

 1.58

Reline Rebase

 0.02

 0.02

 0.02

 0.02

 0.02

Dentures

 0.58

 0.52

 1.66

 1.53

 1.62

Diagnostic

13.63

13.79

13.50

13.93

13.59

Endodontic

 3.55

 3.41

 3.35

 3.60

 3.15

Fixed Bridges

 2.12

 2.10

 1.50

 1.73

 1.39

Total

100 

100 

100 

100 

100 
Table 2 (above) shows that, while most percentages remained fairly stable from 2017 to 2021, in view of the pandemic, there was a noticeable decrease in Preventive Services in 2020 which continued in 2021 from 12.54% or total paid claims in 2017 to only 10.47% in 2021.
In comparison, the percentage of total amount paid for Orthodontic Services rose to 10.70% in 2021 from 9.30% in 2017.
Figure 2 (below) represents the average amount paid by the Administrator to employees in 2021 in the various age groups. The age group from 45 to 59 continue to have the highest amount paid per employee. The average paid amount in 2021 increased for all age categories but even more significantly for the under 25 age group where we saw an increase of 60% over 2020 (or 39% over 2019). This age group however still has the lowest average amount paid.
Figure 2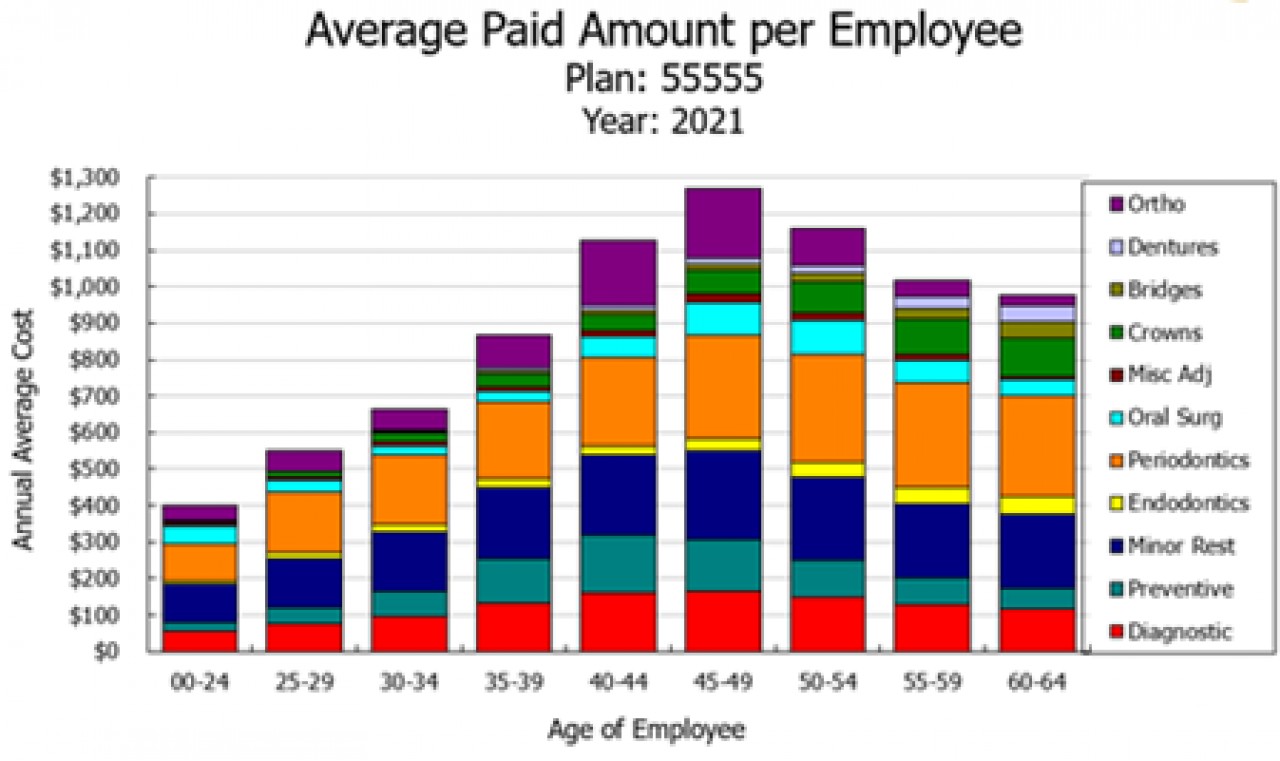 Figure 3 (below) shows that the average amount paid increased for all age categories from 2018 to 2021 but more noticeably for the under 25 age group. The table also shows that the average amount increased for all services and all age categories except for Periodontics which decreased for ages 30 and over and Dentures in the 25 to 29 and 35 to 59 age groups.
Figure 3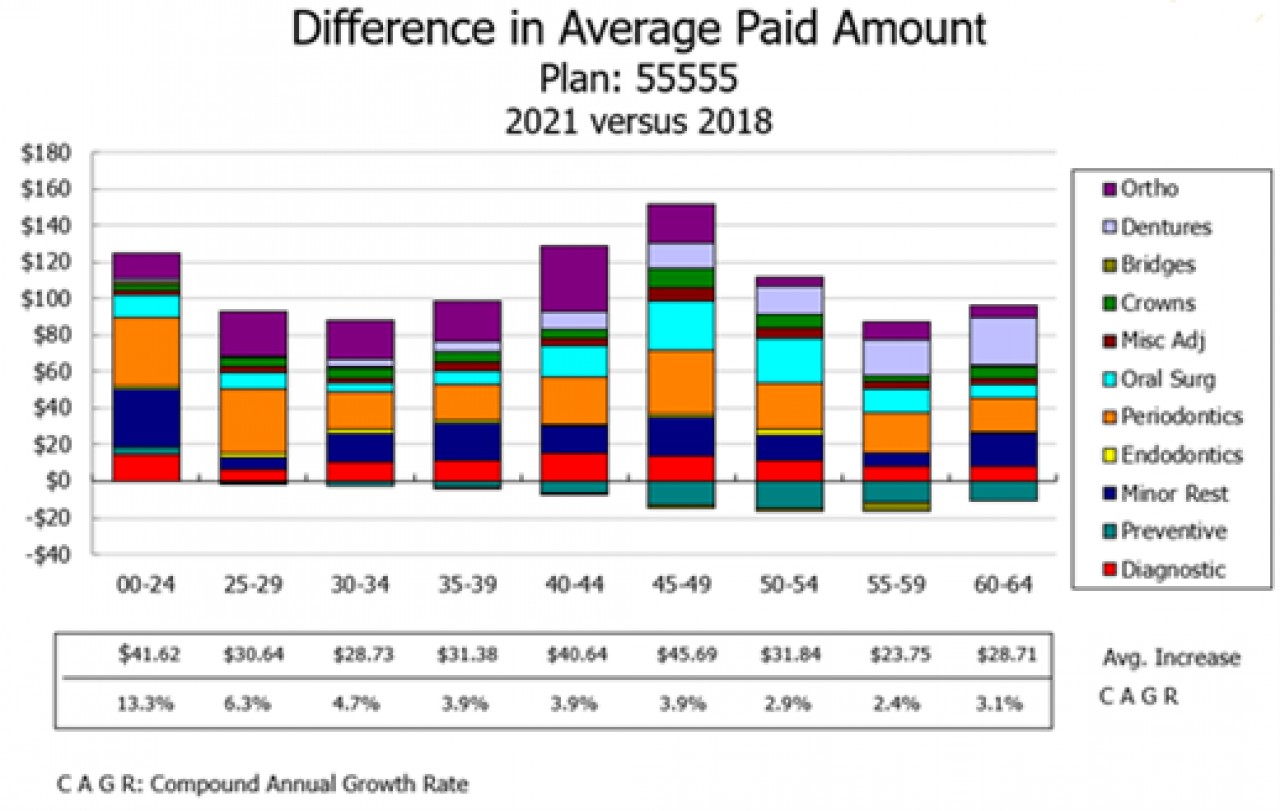 Overall, compared to 2018, the Plan showed a compound average cost increase per employee in all age bands except for Periodontics which reduced for ages 30 to 64 and Bridges which decreased for ages 25 to 59. The increase in the average Plan cost per employee from 2018 to 2021 was mainly attributable to the increase in the average amount paid per Plan member for Preventive, Oral Surgery, Adjunctive Service and Dentures across all age bands.
In 2021, the average cost per employee increased by 31.7%, compared to 2020 (or 3.5% compared to 2019) based on membership as of December 31, 2021. This increase was attributable to an increase in all categories and age groups when comparing to 2020 or to all categories and age groups except Preventive Services for ages 30 to 64 and Endodontics for ages under 25 or over 40 when comparing to 2019.
Total costs for the Dental Care Plan (NJC Part) in 2021 increased by 37.3% over 2020 (12.6% over 2019) driven mostly by the increase in the average amount paid per employee of 31.7% (3.5% over 2019) combined with an increase in membership of 4.3% (8.8% over 2019).
Service Level Performance Review
Throughout the year, the Board continues to monitor the performance of the Plan and the level of service provided to the Plan members. For 2021, the performance was as follows[2]:
|   | Targets | Results |
| --- | --- | --- |
| Calls answered in 60 seconds or less | 80% | 89.2% |
| Wait time for calls | 60 seconds or less | 31 seconds |
| Claims turnaround time | 7 calendar days | 3.45 calendar days |
| Abandon rate | 5% of total calls or less | 1.65% of total calls |
[2] The call centre performance is based on the results for the dedicated line only.
Currently, there are 72,250 (48.2%) NJC members registered for member portal access.
Of those registered for member portal access, 54,467 NJC members (75.3%), have elected for direct deposit. In 2021, 84.3% of total claims resolved for the PSDCP were submitted electronically.
Table 4 (below) denotes the Plan's operating expenses for 2021. Expenses have increased by 32.9% over 2020 (or 7.5% over 2019), with the majority of the increase as a result of taxes (33.9%).
Table 4
Public Service Dental Care Plan
Operating Expenses
55555 PSDCP (NJC)
January 1 - December 31, 2021

 
2020
2021
 
$
%
$
%
Taxes
4,707,537.41
65.0156
6,302,989.49
65.5191
Claims Settlement Expense
2,532,789.82
34.9803
3,316,791.08
34.4778
Other
300.00
0.0041
300.00
0.0031
Total Expenses
7,240,627.23
100        
9,620,080.57
100        
Communication
As always, the Administrator presented Plan member usage statistics to the Board. In October 2021, the Board engaged in discussions with TBS and Canada Life regarding claims assessment guidelines used by Canada Life. These discussions remain ongoing. The Board also discussed its desire to re-word specific sections of the Plan, when the Plan is open for negotiations, to ensure Plan members clearly understand the intent of relevant sections. Given that throughout 2021 there were significant delays in obtaining information from the TBS, on a variety of issues, the Board has indicated a need for improved communication from TBS in the year ahead.
Training
When possible, the Board participates in conferences and learning sessions held by the International Foundation of Employee Benefit Plans (IFEBP) as a means to develop Board member expertise and to stay current with trends in the dental care field. The Board remains committed to investing in the development of its members. Due to the ongoing COVID-19 pandemic, the Board was unfortunately unable to attend any IFEBP conferences during 2021. Nonetheless, the Board remains hopeful that members will be able to attend conferences in 2022.
Conclusion
In closing, the Board wishes to take this opportunity to thank the Administrator, Canada Life, for their contribution to the administration of the Plan in the year 2021, and continues to look forward to obtaining the outstanding information requested of the Administrator. As always, the Board is pleased to oversee and provide advice on the management of this important employee benefit. Lastly, the Board wishes to extend their gratitude to Dr. Cooney for all his hardwork and support over the past 10 years.